February 3, 2020
By Robert Storace | Connecticut Law Tribune | Law.com (January 31, 2020) -- Fellow attorneys say the state's Criminal Justice Commission made the right choice Thursday evening in naming Richard Colangelo Jr. as the next chief state's attorney. They say Colangelo is diligent, compassionate and even-keeled.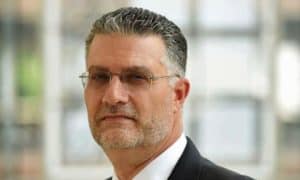 Richard Colangelo, Jr.
Richard Colangelo Jr. has made national news pages headlines recently as prosecutor in the case of late accused murderer Fotis Dulos, but notoriety is nothing new for Connecticut's newest chief state's attorney, whose work has often captivated audiences.
In the early 1990s, Colangelo helped prosecute New Canaan resident Michael Farren, a former deputy counsel to then-President George W. Bush. Farren was arrested in 2010 for nearly beating his wife, Mary Margaret Farren, to death, and he is currently serving a 15-year prison sentence.
While the Farren case drew national attention, attorneys who worked behind the scenes said they witnessed qualities that set Colangelo apart.
"It's very telling about the person Richard is," said Ernie Teitell, who taught Colangelo at Quinnipiac University School of Law in the early 1990s, and later observed the young attorney's work. Teitell of Silver, Golub & Teitell, said he had noted Colangelo's attentiveness early on.
Colangelo's accomplishments as a prosecutor helped him ascend to state's attorney for the Judicial District of Stamford/Norwalk in July 2015. He held that job until his new appointment to chief state's attorney last Thursday. He was officially sworn in the afternoon of Friday, Jan. 31.
Teitell represented Mary Margaret Farren in her civil case, and he said Colangelo's involvement in easing his client's pain, fear and worries during the proceedings was something unusual.
"He handled the criminal case with the utmost compassion. He showed such caring to my client in a very difficult situation," Teitell said. "She had to retell a very difficult story of being severely beaten. The case went for a while and he was always in touch with her. He was always talking to her and, as a result, she stayed in touch with him over the years. She was so grateful for his compassion, for his caring and helping her get through that time. He went beyond the call of duty of a prosecutor, and that always stuck with me."
As word of Colangelo's appointment to chief state's attorney quickly spread last week Teitell said Ms. Farren reached out to him.
"She just called me and told me she was so happy he was named chief state's attorney," Teitell said.
Other colleagues described Colangelo as caring and compassionate.
Edward Heath, a partner Robinson & Cole in Hartford, said he had a similar experience with the prosecutor, in a civil case involving the Norwalk Police Department.
"What I saw was everything you want to see in a prosecutor: someone who is fair, open-minded, pragmatic and prepared," Heath said. "Most of all, he listened. He was willing to hear us out in order to come to a fair result and the right outcome."
Richard Meehan, an attorney for 46 years, oversees Bridgeport-based Meehan Law. He said he's known Colangelo since "he was a baby prosecutor more than 20 years ago."
"He is someone who is not about the convictions, but about doing the right thing," Meehan said. "He has a good sense of fairness."
Another former Quinnipiac law professor who taught Colangelo was Westport solo practitioner Mark Soboslai. He taught a class that Colangelo took in the early 1990s on alternative dispute resolution.
"He's very level-headed and deliberates carefully," Soboslai said Friday. "It's important when you elevate someone to chief state's attorney that they have experience at the level of the lawyers they will be supervising. He has extensive experience, and has distinguished himself as a state's attorney, and developed a good reputation among members of the bar."