July 28, 2020
By Edmund H. Mahony | Hartford Courant | HARTFORD, CT (July 27, 2020) -- Inmates who claimed in a suit that conditions of confinement at the federal prison in Danbury put them at risk of COVID-19 infection settled Monday after the warden agreed to an enhanced review process to evaluate prisoners for early release.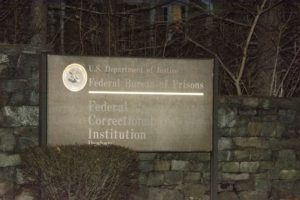 The inmates sued in late April when corona virus transmissions were at crisis levels in the northeast and Danbury was among the hardest hit in the federal Bureau of Prison system. By early May, about 60 inmates and 50 staff members had contracted the disease and one inmate has died.
There was only one inmate at the institution Monday who had tested positive for the virus, federal officials said. Elsewhere, more than 500 women at a federal medical prison in Texas tested positive.
The Danbury settlement requires the prison to continue with a rigorous evaluation process that ranks inmates by their susceptibility to infection and associated health risks and identifies candidates for various forms of early release.
Shortly after the case was filed in U.S. District Court, Judge Michael P. Shea accused the prison administration of failing to comply quickly with guidelines issued by the justice department and federal health officials for evaluation and possible release of inmates.
Unlike other jurisdictions, Shea did not order release of inmates, but ordered a stepped-up evaluation process. Appeals from judicial release orders slowed COVID mitigation efforts elsewhere.
"What he basically said to them was, 'You have to identify the people who are medically vulnerable, you have to identify them right way and you have to make reasoned decision about whether to release to home confinement or not.' And he monitored them," said Attorney David Golub, whose firm represented the inmates at no cost.
"So there was nothing for them to appeal," Golub said. "From his orders, we were able to fashion a permanent settlement that requires Danbury to do that for the duration of the crisis."
The settlement is in effect until Oct. 31, 2021.
U.S. Attorney John H. Durham, whose office represented the prison, said Danbury and the entire federal prison system have worked "extremely hard to ensure the safety of both inmates and BOP personnel safe during the COVID‑19 pandemic."
"Due to their efforts, FCI Danbury has managed to contain the spread of COVID‑19 at the institution and maintained a zero infection rate over the last month," Durham said. "Currently, there is only one confirmed COVID case at Danbury stemming from a newly admitted inmate who tested positive upon arrival while in quarantine."