June 27, 2019
STAMFORD, CT (June 26, 2019) --  The 19th Annual SilverSource Charity Golf Outing honored Richard Silver, senior partner of Silver Golub & Teitell, with its 2019 SilverSource Champion Award.  A Stamford native, Silver's distinguished career as a Connecticut trial attorney includes many high-profile landmark cases, including his role as lead counsel in the Mianus River Bridge collapse trial and pro bono work representing prisoners at Danbury Correctional Institution to eliminate overcrowding.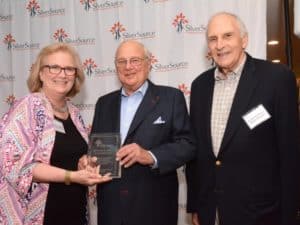 Richard Silver receives the 2019 SilverSource Champion Award. Left to right, SilverSource Executive Director Kathleen Bordelon, Honoree Richard Silver and Board Chair Jerome Berkman. Photo Credit: Studio Smith
"I'm especially delighted to receive this honor because of the wonderful work the organization does. It really is a wonderful resource for this community, and we don't know how lucky we are to have an independent charity organization that does the work that this organization does," said Silver.
"We are proud to recognize Rick for his professionalism, integrity and dedication to advocating for the rights of those in our community," said Kathleen Bordelon, Executive Director of SilverSource. "We are fortunate to have his support, and thankful that he is in our corner championing for vulnerable seniors."
The Circle of Champions past honorees for the tournament include Dick Taber, Mike Cacace, Esq., Ernest Abate, Esq., Jevera and Bill Hennessey, Esqs. Honorable Gerald Fox, Jr., Patricia and Paul Kuehner, Clay Fowler, and Rey Giallongo, Jr.
The event at Rockrimmon Country Club in Stamford, CT, on June 10 included a day of world-class golf, brunch, dinner, cocktails, door prizes and awards. The tournament was one of the organization's central fundraisers, drawing over 100 golfers and raising more than $130,000 for the SilverSource Elderly Housing Stability Program, Elder Eviction Protection and the Ride To Wellness Medical Transportation Program.
Tournament participants enjoyed a variety of competitions in addition to 18 holes of golf. Tournament play activities included a longest drive contest, closest to the pin competition, a closest to the line contest, and a hole-in-one competition presented by BMW of Darien. Participants attempted to get a hole-in-one to win a 2019 BMW 330xi. "The19th Annual SilverSource Charity Golf
"The19th Annual SilverSource Charity Golf Outing was a great success," said Bordelon. "We're very grateful to the generous businesses and individuals that came out in support of greater-Stamford seniors in need."
A rousing live auction was led by television personality, Alan Kalter, and raised funds to help seniors keep a roof over their heads, afford healthcare and basic necessities as well as heat, hot water, and to fight hunger.
Each year, SilverSource manages more than 2,000 cases, assisting older adults in crisis. In addition to providing individual assistance such as life-saving prescriptions, groceries and medical equipment, the organization prevents seniors who are struggling financially from spiraling into homelessness, and the SilverSource "Ride to Wellness" transportation program provides safe and affordable rides to medical appointments.
SilverSource is grateful to the golf committee, led by Bill Hennessey. The committee included Ernie Abate, Jerry Berkman, Ellen Bromley, Bob Goldstein, John Louizos, Mike Mezzapelle and Dan Tully, as well as many volunteers who contributed their time and talent to make the event a great success. The organization is thankful to the many generous corporate sponsors who helped to make the event possible, including Title Sponsor: Silver Golub and Teitell, LLP; Platinum Sponsor: First County Bank; Gold Sponsor: George Comfort & Sons; Silver Sponsors: Spinnaker Real Estate Partners, Steven Wise Associates, Stamford Health and Viking Construction; Bronze Sponsors: AA Hearing Aid Center, Bartlett Tree Experts, Cacace Tusch & Santagata Attorneys at Law, Cappelli Organization, Carmody Torrance Sandak Hennessey LLP, Curtis Brinkerhoff & Barret PC, D'Amico and Pettinicchi Attorneys at Law, KAF Manufacturing Co, Kilbourne & Tully PC, Mezzapelle & Associates LLP, Oak Financial Group, Plaza Realty & Management Corp, and Quinnipiac – Frank H. Netter MD School of Medicine; Foursome Sponsors Halloran & Halloran, Riko's Pizza, The Umbrella Club, and Reckson, a Division of SL Green; Competition Sponsors Abate & Abate Attorneys at Law, Bartlett Arboretum & Gardens, BMW of Darien, The Ashforth Company, Wheelhouse Group, BLT/Harbor Point, David's Soundview Catering, Day Pitney LLP, The Field Group, Leandro P. Rizzuto Foundation and Wilton Meadows & The Greens at Cannondale; as well as Media Sponsor, Stamford Magazine/Moffly Media.
About SilverSource, Inc.
SilverSource, founded in 1908, advocates for older adults and provides case management, guidance, emergency financial assistance and other services to improve the quality of life for people over age 60. In addition, SilverSource is an information resource center and referral source for older adults and their families. SilverSource, Inc., a 501(c) 3 non-profit organization is located at 2009 Summer Street in Stamford, CT 06905. For more information visit www.silversource.org or call 203.324.6584.