November 24, 2014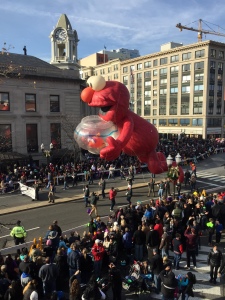 Elmo, Stamford Thanksgiving Balloon Parade 2014 (Photo by Randy Savicky)
Like so many times in the past, Silver Golub & Teitell again sponsored the Elmo Balloon in Stamford's annual Thanksgiving Balloon Parade.
Members of the firm that participated has balloon handlers and banner holders included:
Lynn Douglass
Natasha Gold (Balloon Captain)
Jennifer Goldstein
David Golub
Jane Grein
Daniel Jo
Mike Kennedy
Marilyn Ramos
Marlena Rustici
Ernie Teitell
We hope you had as much fun watching the parade as we did marching in it!
In case you missed it, It's Relevant has made its exclusive video broadcast of the parade available on demand -- from balloon characters, award-winning marching bands and local floats.  If you want to find Elmo and the SGT team quickly, we appear at 1:20:01 of the broadcast.  Please click here to watch the show.
You can explore the entire lineup and see where each act appears within the broadcast below:
Police Motorcycles - 1:00
NYPD Pipes and Drums - 5:57
Abby Cadabby Balloon - 10:35
Grand Marshal-Governor Malloy - 12:07
Sacred Heart University Marching Band - 14:00
Mayor and Dignitaries - 16:05
Second Company Governor's Horse Guard - 18:00
Super Grover Balloon - 19:35
The Pulse Performing Arts Studio's Nova Jazz - 22:15
Catholic School Float The 70's - 25:10
Mooch & Earl Costume Characters - 26:07
Kermit the Frog Balloon - 26:47
Northeast-Stillmeadow Elementary School Band - 28:31
Stamford Public Schools - Board of Education Dignitaries - 29:06
Teacher of the Year Float - Global Classroom - 29:24
Rippowam Middle School Marching Band - 30:30
Bob the Builder Balloon - 31:20
City Center Dance - 33:40
Fred Flintstone Balloon - 36:30
Butler Golden Tornado Marching Band - 38:02
Mr. Potato Head Balloon - 43:00
The 95.9 The Fox Holiday Party Float - 44:40
Xpogo Stunt Team - 46:02
Scooby-Doo Balloon - 48:25
Uniondale High School Knights Marching Band - 49:15
Cirque-tacular Roller Skater - 52:00
Shrek Balloon - 52:50
Stamford Town Center Float - Vocal Trash - 54:00
Clifford the Big Red Dog Balloon - 57:11
Saints Brigade Drum & Bugle Corps - 58:46
Westhill High School JROTC - 01:02:10
US Naval Sea Cadets - 01:02:20
Popeye Costume Characters: Popeye, Olive, Brutus, Wimpy - 01:03:15
Popeye Balloon - 01:03:35
Miss Connecticut, Acacia Courtney - 01:05:03
Westhill High School Viking Marching Band - 01:06:14
Red from Fraggle Rock Balloon - 01:09:42
Stamford All-School Musical -The Addams Family - 01:11:31
Stamford Professional Firefighters 01:15:15
Big Bird Balloon - 01:16:16
Center Stage Dance Studio - 01:17:23
Elmo Balloon - 01:20:01
Brentwood High School Green Machine Marching Band - 01:22:03
Cirque-tacular Hand Balancers - 01:25:15
Donate Life Connecticut:The Miracle of Life Float - 01:26:44
The Lorax Balloon - 01:27:30
Stamford High School Black Knight Marching Band - 01:29:25
at in the Hat Balloon - 01:33:08
STEPS Dance Studio Alumni & Company - 01:34:36
Harrison High School Huskies Marching Band - 01:36:56
Billy Blazes Balloon - 01:40:50
Locust Performing Arts Center of Stamford - 01:41:55
Cirque-tacular Holiday Juggler Unicyclist - 01